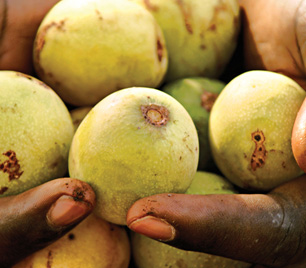 Marula oil
Skin Care Benefits
Products
Origin
Traditional Use
Did you know
Contains one of the most powerful antioxidants (Maruline), which acts as a free radical scavenger to repair damaged skin
Packed with antioxidants (tocopherols, flavanols, procyanidin and catechins, similar to the anti-oxidants in green tea) to restore and revitalise skin
Rich with essential fatty acids (omega-9 oleic and omega-6 linoleic), which improve skin hydration and smoothness
Easily absorbed, non-greasy
Marula oil is found in our Exfoliant, Face Oil and Moisturiser. Our Marula oil is certified fair-trade and organic and sustainably harvested by Owambo women in Northern Namibia and Swazi women in Swaziland as part of community empowerment projects.
Marula trees (Sclerocarya birrea) grow across Southern Africa from Northern Namibia, to Botswana, Malawi, Mozambique, South Africa, Swaziland, Zambia and Zimbabwe.
Women in Southern Africa use Marula oil as a treatment for dry skin and hair. In Swaziland, pregnant women and new mothers use it to reduce stretch marks. It is also widely used as baby oil.
THE SYMBOLISM OF THE MARULA TREE
In Zulu culture, the Marula tree symbolises fertility. The Zulu and Tonga peoples call it the Marriage Tree. Prior to a wedding, a brew of the bark is administered as part of a cleansing ritual. Marula trees are dioecious, which means they have a specific sex. Because of this, some believe that bark infusions can be used to determine the sex of an unborn child. The male tree is used for a son, and the female tree for a daughter. If a child of the opposite sex is born, the child is said to be very special as it was able to defy the spirits.